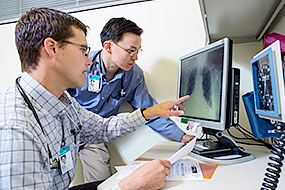 Our faculty are the highlight of our residency program. They bring a wide diversity of expertise from health care reform to clinical education to specialized areas within primary care. Residents will learn under an apprentice-like model, with a focus on direct one-to-one learning.
Every Family Medicine Residency faculty member, both physicians and behavioral scientists, have an appointment on the clinical faculty at the University of Washington School of Medicine, and all physicians on the faculty are board-certified in family medicine. Each resident is assigned an advisor from among the faculty physicians for the three years of their residency.
Each of the faculty physicians maintains a busy family medicine clinical practice, most of them at half-time or greater. This commitment to family medicine provides us with faculty who are acutely aware of current issues in clinical medicine and practice management. This sets our program's precedent to produce strong clinicians
Core Faulty

The core faculty consists of family physicians and behavior scientists.
Blair Becker, MD
Dick Dobyns, MD
John Gayman, MD
Jennifer Hoock, MD, MPH
Cynthia Lee, MPH, MSW
Tom Linde, MSW
Michael Madwed, MD
Megan Melo, MD
Carl Morris, MD, MPH, program director
Kristin Nierenberg, MD
Eve Paretsky, MD
Katie Paul, MD
Grant Scull, MD, associate program director of clinical operations
Lynne Sullivan, MD
Brad Volk, MD
Jason Wong, MD