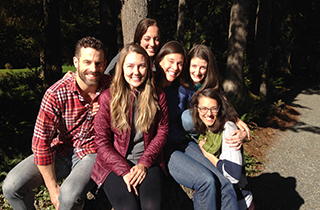 "I believe our residency wellness curriculum is as important as our medicine curriculum." — Carl Morris, program director
---
Our mission at Kaiser Permanente is to produce skilled family doctors with professional habits and mindfulness to lead long, fulfilling careers. We believe an approach to training that emulates advanced primary care practice is the first step to sustainable well-being for our graduates.
Kaiser Permanente trainees follow a longitudinal schedule, which foregoes block rotations focused on one area of practice in favor of shorter experiences spread more evenly across the academic year. This innovative framework allows residents to spend more time in the outpatient clinic, often their greatest source of satisfaction, and provides better opportunities for recovery from inpatient medicine, obstetrics, and other experiences that involve long hours and taxing shifts.
We also recognize that practicing family doctors have families, communities, and areas of interest outside of medicine. Whenever possible, we work with our residents on creating schedules that accommodate everything from new babies to participation in the Ultimate Frisbee world championships.

There are also numerous provisions for wellness within our curriculum. Two third-year residents serve as "wellness chiefs," planning educational sessions and activities focused on encouraging well-being among their peers and teaching skills for good health in life and practice. The wellness chiefs and our behavioral scientists work together on integrating wellness into the educational process, including:
Wellness hour at monthly didactic sessions
Monthly Balint Groups
Monthly residency class support groups
Scheduled residency social events twice monthly, such as potluck dinners, concerts, movies, community service events, and local hikes
Monthly wellness emails with information about upcoming Seattle and residency social events
One overnight all residency retreat, and one day residency retreat
One weekend residency class retreat
Periodic meals hosted in the homes of our residency faculty
Community events such as the Ski to Sea race in Bellingham
A "family medicine month" at the beginning of each academic year that focuses on the art of family medicine and other restorative aspects of practice
Birthday recognition
Book club
End of the year "pager ceremony"
Peer mentorship and support "families"