Member Website Tour: Labs & More
Easy Access to Your Medical Record
Your online medical record includes:*

Lab & Test Results: Don't wait for results to arrive by mail.
Routine-Care Reminders: See when you're due for well-care exams and tests for your age group and gender, including immunizations.
Immunizations: Look up the vaccines you've had, along with dates.
Health Conditions and Allergies: See a list of your known health issues and allergies.
Blood Pressure & Weight: Check your latest numbers; track changes.
Vision: Get a copy of your glasses or contact lenses prescription. Also, any letters you requested from your doctors.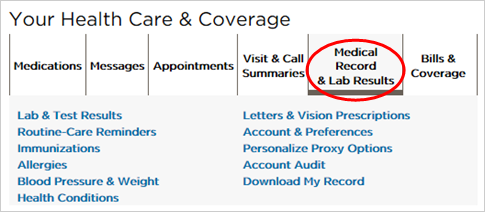 *This service is available if you get primary care at a Kaiser Permanente medical office.