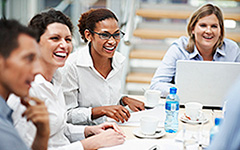 Balancing a job, home, family, and friends can be challenging. Whether you have children at home, multiple jobs, a demanding career, or are caring for elderly parents or an ill spouse, you may find yourself feeling stressed and overwhelmed.
Unrelieved stress can wreak havoc on your life. You may lose sleep, make mistakes at work, lose things, feel tired all the time, or be overly irritable with those you love.
There are ways to manage your stress and take back control of your life. The first step is to take good care of yourself. Self-care is the best way to maintain energy, stamina, focus, and peace of mind. Here are a few tips:
Recognize signs of stress. Some of the most common issues that women experience involve worrying about body image, questioning parenting skills, coping with an abusive or controlling partner, caring for a chronically ill or elderly loved one, and grief. When you're experiencing two or more of these life stressors, you may benefit from counseling or additional support.
Identify the sources of stress in your life. Is your workplace organized? Do you prioritize your tasks at the beginning or end of each day? If you have a huge workload, can you delegate to others? This could include projects at home as well as work. Can family members help with chores around the house, such as helping prepare meals? Could you go out for dinner once a week?
Practice healthy habits. Eat well, sleep seven to eight hours a night, exercise daily, and get plenty of fresh air and sunshine. If you work at a desk, remember to take frequent breaks to stand, stretch, and walk around.
Relax. Try relaxation techniques such as deep breathing, yoga, tai chi, or meditation. Finding balance in your life often starts from within.
Plan ahead. This can range from stashing snacks and clothes in the car for child-related emergencies, to laying out work clothes the night before, to having a "things to do" checklist posted at home and at work.
Be realistic. Realize that you can't do it all. Instead of thinking about what you're not getting done, focus on what you're accomplishing. You may be surprised at how much you get done in a day.
Ask for help. If you feel like stress is taking control of your life, or continue to feel anxious or depressed, talk with your doctor. You may benefit from counseling from a Behavioral Health Services specialist, or from sleep aids to give you a good night's rest. (If you're pregnant, or trying to get pregnant, be sure to talk to your doctor about which medications are safe during this time.)
Additional resources. Your personal physician can help diagnose and treat many mental health conditions. If you have complex conditions such as bipolar disorder or substance abuse issues, you might benefit from seeing a Behavioral Health Services specialist. For help finding other resources that may be available at Kaiser Permanente or in your community, contact the Kaiser Permanente Resource Line at kpwa.resource-l@kp.org, 206-326-2800, or toll-free at 1-800-992-2279.