What to Expect With Cancer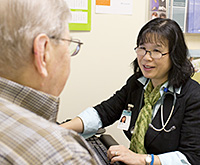 A cancer diagnosis is often overwhelming. But when you understand the cycle of cancer — diagnosis, treatment, and life after treatment — you can feel more in charge of your healing process.

Your care may involve making many decisions that can include treatment methods, second opinions, alternative medicine, and clinical trials. Find the right pace for you.

Some want a lot of information right away, to understand what lies ahead. Others prefer to take in information more slowly, so they can adjust to each step along the way. Our goal at Kaiser Permanente is to help you make decisions when you're ready, with the information you need.

With recent advances, treatments are very effective in many cases of cancer. Your cancer care team at Kaiser Permanente will help you understand what to expect, discuss your treatment options with you, and provide care and support during the diagnosis phase and treatment.

Your team — including your personal physician — is also there for you after treatment ends, for follow-up tests and any ongoing care you need.
Confirming a Cancer Diagnosis and Treatment Plan
You'll meet with a cancer specialist who might be a medical oncologist, radiation oncologist, or surgeon — depending on what type of cancer you have. Your cancer doctor will explain your treatment options and possible next steps.

Sometimes more tests are needed to find out exactly what type of cancer you have and if the cancer has spread to other parts of your body. This helps us to find a treatment plan that will work best for you.

Write down any questions you have and discuss them with your care team. You might bring a family member or friend to appointments to take notes and help ask questions. You'll probably want time to think about what your cancer doctor recommends.

At Kaiser Permanente medical offices, you and your doctor will work together — in whatever way that's right for you — to make a decision on treatment.

You may want a second opinion about the diagnosis or treatment options, either from another Kaiser Permanente cancer specialist or from a cancer specialist outside of Kaiser Permanente. If you wish, your care team can help. Check with Member Services about what is covered under your health plan.

After you have a second opinion, check back with your cancer specialist to talk about your options and where to be treated.
Planning for Treatment
Once you have a treatment plan, you'll need to consider how treatment might change your normal routine.

After surgery — if you have it — you may need time to heal before any other treatment begins. During recovery, you may also be limited as to what you can do in your daily life, from working to grocery shopping to caring for other family members.

Radiation therapy and chemotherapy usually occur over a few weeks or months. Check with your care team to find out what side effects are common for your type of treatment and how to manage them. Some people have few or no side effects, others feel worse in the days or week right after a treatment session, and some feel unwell most of the time.

You might need to adjust your work schedule. If you need rides to treatment sessions or help in your home, consider asking friends and family members for help. Our Social Work Services and Resource Line can also help you find resources at Kaiser Permanente or in the community. Our nutritionists can suggest certain foods that you may want to have on hand.
During Treatment
You might need more than one type of cancer treatment: surgery to remove a tumor or tissue, radiation therapy to destroy remaining cancer cells, and/or chemotherapy, (often given through infusions into a vein) which also destroy cancer cells. Chemotherapy, if needed, would take place at a specialized Kaiser Permanente infusion clinic.
How often you go into a clinic for chemotherapy or radiation depends on your treatment plan. Your sessions could be daily, a couple of times a week, to once every few weeks. The plan may also include a rest period of a few weeks between treatments.
The types of side effects you might experience also depend on the radiation dose and chemotherapy drug. Some effects include nausea, vomiting, fatigue, problems thinking clearly, sensitive skin, changes to smell and taste, and hair loss. Talk to your doctor and nurses about how to manage side effects, from home care tips to special medicines.
While it may seem that your life is revolving around cancer treatment during this time, it's important to take care of yourself both physically and emotionally.
After Treatment
While you will be relieved to finish treatment, you might be concerned about the cancer coming back (recurrence). Discuss follow-up care with your cancer doctor and ask how you can help to lower your risk of a recurrence.
It may take awhile to feel better overall after you finish treatment. Most side effects go away after treatment ends, but some people continue to feel tired for weeks or even months. Sometimes cancer drugs or radiation can cause other health problems, right after treatment or later. Your follow-up care will include care and monitoring for any complications.
You may want to join a support group so you'll have connections to people with similar experiences. And you can always contact your Kaiser Permanente care team if you have any questions.