Teen Pregnancy & Parenting Clinic
From sorting out your options to giving birth and beyond, you can count on support from the Teen Pregnancy & Parenting Clinic.
We're here for you.
Reasons You'll Like Our Clinic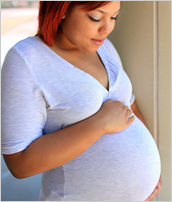 We're easy to talk to
We'll help you sort through your options - and get the care that you need - in a respectful, supportive way.
You can trust our services
You and your baby will be in very good hands. We've been caring for pregnant teens for more than 25 years. We're nationally known for having fewer premature deliveries, low birth-weight babies, cesarean sections, and repeat pregnancies than other local and national agencies.
You'll get one-stop care
Our team includes two staff doctors, Kaiser Permanente Washington Family Medicine residents, a nurse, a social worker, a dietitian, a WIC provider, and a childbirth educator.
You do not have to be a Kaiser Permanente member
We accept most medical coupons, including Molina/Apple Health (Medicaid).
We Offer:
Pregnancy care
Childbirth classes
Help getting nutritious foods during your pregnancy
Delivery at Swedish First Hill
Well-child care for babies up to 2 years of age*
Advice on parenting skills
Information about medical coverage
Free pregnancy tests
* Your pregnancy and delivery care must have been through our clinic
Call Us, or Stop By
Kaiser Permanente Capitol Hill Campus, West Building
206-326-2656
We're open Tuesdays and Thursdays, 8:30 a.m. to 5 p.m. The clinic is conveniently located on several bus lines: Metro #43, #10, #8