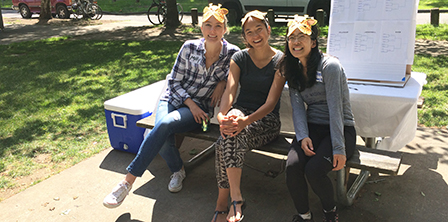 Residents and faculty
"The best part about being a resident at Kaiser Permanente is being in an environment that is truly committed to improving healthcare. On a residency level, this means that the faculty members are very open to our ideas and are there to help us make things happen. We are often checking in with each other and asking ourselves, 'What can we do to better support our patients and each other?' As an organization, Group Health has a strong commitment to primary care and has recently launched an initiative called 'Advancing Primary Care,' in which we use a multidisciplinary team approach to make sure more patients, especially the patients that have the hardest time coming in, are getting all their preventative health needs met. As a resident, it is inspiring to see an entire organization make this type of commitment to primary care. It is an environment that strongly supports Family Medicine and one where new physicians thrive."
— Phyllis Ying, Class of 2019
"Training at Kaiser Permanente provides an everyday reminder of why it is so wonderful to become a family doctor. The curriculum is unique and built to model the life of a family doctor in practice. The faculty members are examples of how to follow your personal interests while balancing full-spectrum care. The continuity clinics are team-based and functional so that time spent in clinic is productive both for your patients and your learning.
"As a resident, you have ownership over your panel of patients and have the time in clinic to establish individual relationships early in your training. You also have amazing technology at your fingertips to ensure your patients are meeting targets for their chronic conditions and up-to-date on preventative health care. There are both virtual and in-person opportunities to engage with specialists, and they are welcoming of our questions and extremely helpful in partnering with PCPs to best manage challenging diagnoses.
"All of that and it is just a fun place to be — great people and a most supportive training environment!"
— Annie Gayman, Class of 2017
"It's been a real privilege to match with and work at Kaiser Foundation Health Plan of Washington. The faculty members are extremely knowledgeable and compassionate, and exemplars for the kind of physician I want to become. My co-residents are thoughtful, fun physicians who all keep the big picture of health and health care in mind even as they work on becoming the best individual family doctors they can be. And to top it off, when I'm not at work, all the experiences Seattle has to offer are at easy access and really facilitate both professional and personal balance in residency.
"The Burien clinic is a real treat – it's my clinical home and my patients have a rich diversity of cultures, languages, and health care needs, and the staff are all highly energetic and make for a joyful practice. I look forward to further honing my acumen for managing complex and chronic patients over the next three years there!"
— Matt Mackey, Class of 2017

"I love this Family Medicine program because it places our continuity clinic as a priority. My practice at the Burien training site gives me the feeling of a community clinic, connecting a more underserved population with good resources for care. I love that the clinic population has a variety of ethnic backgrounds, socioeconomic statuses, and the full age range of newborns to geriatrics. It really is a true model of full spectrum family medicine! What is unique about the Kaiser Permanente model is that it places primary care at the center of delivering high quality care to our patients. It is easy to consult with specialists virtually and to communicate with patients via secure messaging and phone visits. The environment at this residency is very supportive and I am happy to be here!"
— Stacy Lundstedt, Class of 2016
"Coming from a large academic health center, I learned that even with excellent clinicians and facilities, if the health system is broken then patients will struggle to get good care. That's why I came to Kaiser Permanente — it's the place that is leading the nation in how to combine outstanding clinical care with a high-functioning clinical system. Since arriving, I have been impressed at the passion all staff have for creating a healing environment and continually working to improve patient care. I am loving that my comprehensive, hands-on clinical training is partnered to cutting-edge systems-based learning, and that I am surrounded by supportive and engaging faculty and co-residents. I believe this residency program is the best around, and I am impressed that we are always working to get even better. I'm so grateful I have the opportunity to train here!"
— Kat Barnes, Class of 2016
"Kaiser Permanente is an amazing residency program for so many reasons. From the phenomenal program director to the incredibly knowledgeable and supportive staff to the well-established medical home in which residents train, I do not think there is a better family medicine residency program out there. I love the program's emphasis on efficiency, practicing evidence-based medicine, empowering patients through use of the electronic medical record, and structuring rotations to maximize learning. Kaiser Foundation Health Plan of Washington is a place where both patients and providers are satisfied and happy!"
— Chandra Maloney, Class of 2015
"I was thrilled to discover that Kaiser Permanente's program had everything I was looking for: supportive and kind faculty, welcoming residents that I could easily imagine befriending, and strong training in women's health/obstetrics. Plus I loved their passion regarding the patient-centered medical home, for evidence-based practice, and toward health and wellness rather than just treating illness — all of which helped cement how unique and forward-thinking Kaiser Permanente really is!"
— Beth Angstman, Class of 2015