Self check-in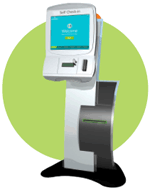 Check in for appointments using automated "Self Check-in" kiosks available near check-in desks. You can use kiosks to check in for most scheduled appointments, pay your copayment or outstanding balances, review your insurance information, select from five languages, print a clinic map and select forms, and update your personal information.
See Self check-in FAQs.
Self check-in kiosk locations
Clinic floor plans include locations of the kiosks and are in a printable PDF format.