Walking is one of the best ways to get moving — and moving is good for your health. That's why Kaiser Permanente medical offices offers a Walk & Talk with Your Health Care Team program at several of our clinics. The program is free and open to Kaiser Permanente members and employees, and members of the community.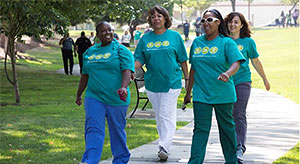 Here's how it works:
You meet with other walkers at a predetermined location (often indoors) for introductions, and a quick health tip from a member of the health team. If you're new to the program, you'll receive a pedometer to log your progress, a drawstring bag, and water bottle.
Everyone heads outside, rain or shine, to walk for 30 to 45 minutes. You walk at your own pace, for the distance you choose.
Also see: Walking Training Program
Whether you're just beginning to log steps on your pedometer, or are training to participate in your first walking event, Walk & Talk is an invigorating way to get health tips along with exercise, and enjoy the company and conversation of others in the Kaiser Permanente community.
The Walk & Talk program, organized by Rosemary Agostini, MD, medical chief of Kaiser Permanente's Activity, Sports, and Exercise Medicine department, is funded with support from the Kaiser Permanente Foundation.
Walk & Talk Locations
The walk and talk program is available at or near the following clinics:
Capitol Hill Campus
When: Tuesdays, 12:15-1 p.m.
Meeting location: South Building, Level A
Course details: Three course options around the neighborhood, from easy to moderate difficulty, and from flat to some elevation gain. All routes are paved or have a pressed gravel surface.
Everett Medical Center
When: Thursdays, 12:15-1 p.m.
Meeting location: Garfield Park, 2300 Walnut St., Everett
Course details: Flat, paved, circular course.
Contact: Polly Allen, 425-261-1810
Port Orchard Medical Center
When: Wednesdays, 12:15-1 p.m. and Saturdays, 9-10:30 a.m.
Meeting location: For Saturday walks, meet at the classroom in the lower south side of the building.
Course details: A scenic pathway that winds around the Port Orchard clinic.
Contact: Judy Larsen, 360-895-5014
Rainier Medical Center
When: Fridays, noon-12:45 p.m.
Meeting location: Rainier Valley Cultural Center, 3515 S. Alaska St., Seattle
Course details: A walking path in a park at the corner of Rainier Ave. S., and S. Alaska St.
Contact: Cynthia Humphrey, 206-326-3997
Tacoma Medical Center
When: Mondays, noon-1 p.m.
Meeting location: Wright Park, 501 S. I St., Tacoma (N.W. corner of park at I St. & Division St.)
Course details: A scenic walking path in Wright Park.
Contact: Linda Shewey, 253-596-3558; or Catherine Delostrinos, MD, 253-383-6286